Singers on the fearsome thrill of Britten's Lucretia
by Annarosa Berman
Sydney Chamber Opera and Victorian Opera's co-production of Benjamin Britten's The Rape of Lucretia, showcases two of Australia's brightest young opera stars, mezzo soprano Anna Dowsley as Lucretia, and soprano Celeste Lazarenko as Female Chorus. While both singers love the intimacy of chamber opera, they say that initially at least, they found their roles daunting.
Female Chorus has been described as the most challenging role in the opera, and Lazarenko, who while living in the UK has worked with ENO, Opera North and at Glyndebourne, says the difficulty lies in the role's unusually wide vocal range. "Britten wanted female chorus to communicate in the range of a woman's speaking voice, so the singing goes very low, but it also needs a lot of light and purity at the top." The size of the role adds to its difficulty: in Greek tradition the chorus witnesses and describes the events, but in Lucretia, male and female chorus both become involved. And there's diction. "In an English opera, the audience expects to understand what you're singing. So you have to learn to finish your words – can'T; don'T."
Dowsley, a former young artist and now principal artist at Opera Australia, faced a different kind of challenge. She says of the potentially career-defining role of Lucretia: "For someone without perfect pitch, the first hurdle was to learn some very difficult music. But [SCO Artistic Director] Jack Symonds teaches the music to you very patiently, and after a while, Britten becomes tuneful. Once you 'get' the music, it's not difficult at all, and singing it feels great."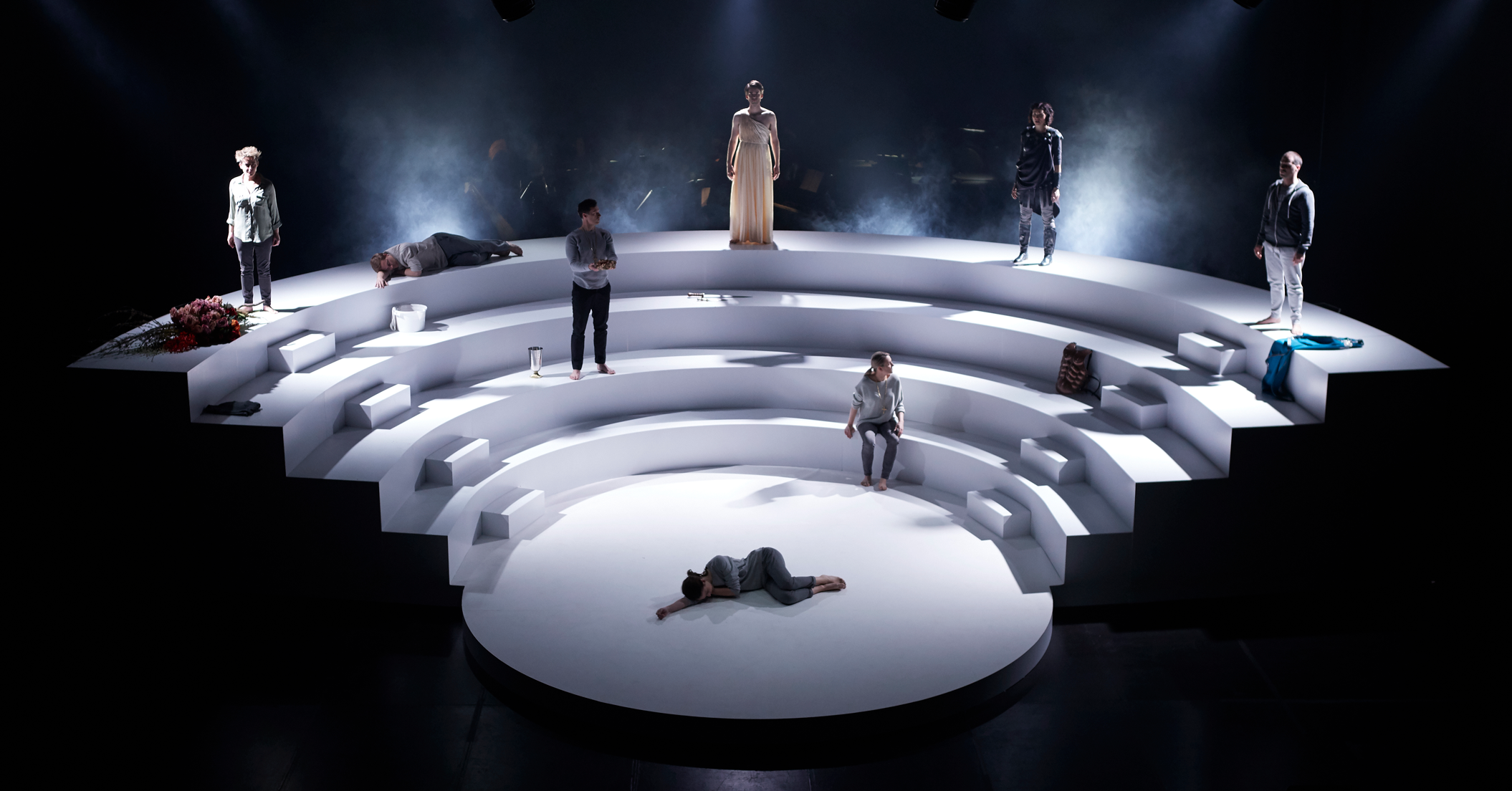 When rehearsals with director (and Sydney Theatre Company Artistic Director) Kip Williams start in mid-July, she imagines that for her, the real challenge will be the drama. "So far I've sung mostly comic roles like Dorabella and Cherubino. I've never died on stage, never killed myself on stage. And I've never been raped on stage."
Williams has a reputation for throwing singers in at the deep end, and Lazarenko for one, relishes the prospect. "We're all very excited to be working with Kip. I'm already thinking, if he asks me to do this, or that, I'm going to say yes!" To which Dowsley quips: "It's on the record now."
She worked with Williams in SCO's staged version of Bach's Ich Habe Genug, an experience she found exhilarating. "There was a lot of discussion and exploration. Generally in opera you don't have that luxury; you're boxed in by the time constraints of the rehearsal period." That Williams, an acclaimed and sought-after theatre director, loves directing opera, is just delightful. "We feel privileged to be able to work with him. I can't wait to see what he will make of Lucretia."
Both singers are looking forward to discover Williams' directorial take on Britten's opera, and especially on its problematic ending. As Dowsley puts it: "The ending is tricky. I think it's one of the reasons why Lucretia is not performed very often."
When working on difficult repertoire, singers rely heavily on the musical instincts of the conductor. Says Dowsley: "When the music is demanding, you can't always trust your own ears. Jack would play this very complicated chord, and you'd have to get your note from it. For him it's like picking apples, but for me it's difficult. He's quite patient though."
Lazarenko agrees. "Having someone with an ear as trustworthy as Jack's; someone who is also trying to coax the best out of you, that's very valuable. He can shock and intimidate you with his talent and ability (she laughs), but if you've made a mistake, or you're out of tune, he will tell you in a courteous way."
Both singers laugh when asked about their plans for the future. "A very small percentage of opera singers actually have control over their careers," Dowsley points out. "You go where the voice and opportunities take you." Lazarenko says, with a smile: "Dame Kiri Te Kanawa once asked me where I saw myself in five years. I said, 'I see myself with a driver and a house in Covent Garden.' I think she was a little shocked because I said it with a straight face."
When she was studying at London's Guildhall, her teachers didn't think she'd be able to make a career of the roles that interested her – very early Mozart; a collection of obscure Handel pieces. "And yet, that's exactly the repertoire I'm being booked for." She's glad that she followed her passion, "because now I get to do these unusual, fascinating pieces."
Lucretia is the most dramatic role that Dowsley has sung so far, and she considers herself lucky that it's in a small, chamber environment, which is less taxing on a young voice than an opera house auditorium. But when she reaches her thirties, she'd like to do some Massenet, perhaps a Carmen, and her dream role is Strauss's Octavian. "The stage is about escaping. If you're a girl, what better way to escape than to play a boy?"
Both singers consider themselves extraordinarily lucky to have careers as opera singers at all. Lazarenko is especially thrilled at the prospect of singing the title role in Cunning Little Vixen for Victorian Opera this winter, once again with Symonds conducting. "But," says Dowsley, with a wink, "houses in Barcelona and Paris is definitely where we see ourselves in future."
We acknowledge the Gadigal people of the Eora Nation as the traditional custodians of the land on which we work and perform. We honour their elders both past and present, and extend that respect to all Aboriginal and Torres Strait Islander peoples.