poem for a
dried up river
Australian Premiere

Music by Jane Sheldon
Poem by Alice Oswald
Presented by Sydney Festival

View the program here
Struggle, exertion – where does it first show up in the body? In the breath. And that's how Jane Sheldon's poem for a dried up river begins: in summer darkness with the sounds of breathing floating over chirping cicadas. Gradually two sopranos emerge from the soundscape, their labour divided – instrument and words.
This riveting performance melds opera, poetry, physical theatre and art installation in a mesmerising, unique combination. Alice Oswald's text about a figurine of a naiad trying to coax water from a bed of limestone 'unfolds like a cry of environmental despair'. Sheldon's exquisite palette of musical colours plays on contrasts: dry and wet, weak and strong, barren and fecund. Elizabeth Gadsby's powerful installation mirrors the nymph's exertions with the unrolling of a 200kg path of clay.
Jane Sheldon reunites with Sydney Chamber Opera for another collaboration filled with detail and nuance, and a profound sense of connection.
Installation & Design
Elizabeth Gadsby
Music Direction 
Jack Symonds 
Lighting Design
Alexander Berlage
Sound Design
Benjamin Carey

Choreography
Danielle Micich
Singers
Jane Sheldon
Anna Fraser
Instruments
Veronique Serret
James Wannan
Jack Ward
Matthew Harrison
Claire Edwardes
Bree van Reyk
This project has been assisted by the Australian Government through the Australia Council, its arts funding and advisory body and the NSW Government through Create NSW.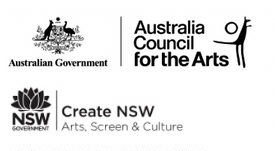 Carriageworks
Bay 20, 245 Wilson St, Eveleigh
Limelight
"Jane Sheldon gives a gripping performance in a work that resonates powerfully with the climate crisis."
The Sydney Morning Herald
"The work explored elemental metaphors – life from clay, water and the feminine, the earth and the spirit, darkness and light."
We acknowledge the Gadigal people of the Eora Nation as the traditional custodians of the land on which we work and perform. We honour their elders both past and present, and extend that respect to all Aboriginal and Torres Strait Islander peoples.