by Pierce Wilcox (librettist of Notes from Underground, Fly Away Peter, Victory Over the Sun)
When I sat down to write the libretto for Notes from Underground, I had one genuine writing credit to my name: a cod-intellectual, sub-Stoppardian piece of magic realist amateur theatre that was immediately and rightly consigned to the dustbins of history. (Everyone has one bad play inside of them, desperate to be freed, and I like to think I got mine out of the way early.)
My juvenilia was in the past. Opera felt like the future. A sentence that's rarely been written, but something that was crucial to our process of creating Notes, and an idea that SCO keeps proving possible with every new and groundbreaking production.
At the time, all of that was distant. What was an opera? Who was an opera? Why was an opera? This wasn't going to be Mimi or Butterfly swooning as hunky baritones swaggered across the stage in electric blue plus-fours. That much I knew. But the possibilities of the art form were something I had no idea of when we embarked on this project. I didn't know what could be done, which meant I had no idea what couldn't be done. So, like a mad scientist in a Hammer Horror film, everything I've made has come from a spirit of unhinged experimentation that cares not a jot for mortal limits.
Mad, they called us! Mad! Or in our case, 'unstageable', an allegation levelled at pretty much everything SCO has gone on to stage, with invariable success.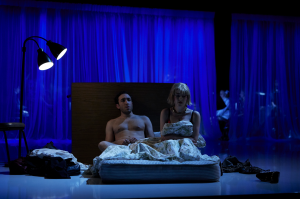 For our first trick, the task was to take a novel of two halves – the first a philosophical diatribe, the second a memory – and turn it into a work of music drama that told a story bounded by time. Something that carried the audience relentlessly forward while still allowing space for reflection and meditation, a gap to be filled by hope and its dark counterpart, regret.
Composer and SCO's now-Artistic Director Jack Symonds and I yoked the two halves together, so that Dostoevsky's wonderful, mad narrator readers call 'The Underground Man' is present to witness the story he tells in the second half of the novella. They're not separated by chapter headings: they're looking at each other across the gap of years, the young man hopeful and forward-looking, the older man embittered by his younger self's mistakes and his own stasis.
The rage and despair of the first half isn't theory any more. It's reality. We didn't want to hear the Underground Man talk about his thoughts on life and love in isolation, we wanted to see them tested and played out onstage, a theatre of his own mind, where the grandeur of opera gives them the vast dignity that the Man so sorely wishes he could preserve in his own life.
That was the structure. What did it meant to put pen to paper?
I have no idea. I use a laptop because we are young and vibrant and also I always lose my stationery.
Adapting a novel into a libretto was unlike anything I had done as a writer. In prose, you have the scope for passages of rich description, and you can stop time to plunge deep into a character's psyche and expose their most intricate fears and desires. In theatre, your primary tool is dialogue, and you're trying to write the way humans actually talk, in all their diversity and strangeness and wit and honesty, as well as leaving space for everything they don't, can't, won't say underneath.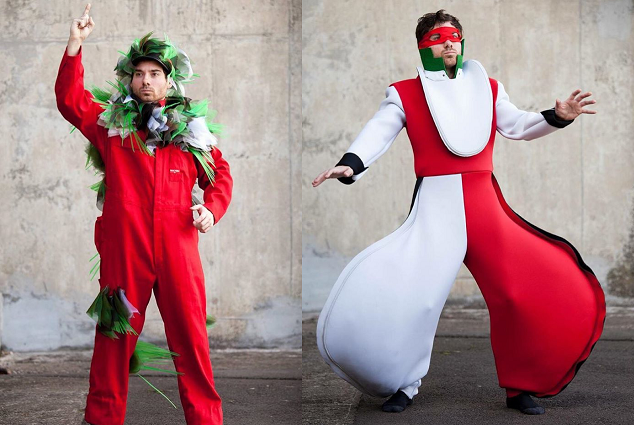 Opera is different. It's poetry. Sparse, sparkling poetry. You're finding the perfect word for that moment, something that can communicate location, mental state, action, intent, ideology – and ideally all at once in as few syllables as possible. My cheapest trick is to use compound words, or neologise my own by jamming two unexpected words together and hoping meaning sparks in the collision. Frankenwords! Like that, which in itself is a frankenword! Gosh language is exciting. I might need a lie down soon.
So you search for a word that can be sung, a word that says everything a whole paragraph or chapter might say in the luxurious expanse of a novel, and you put it down.
A little example: The first line of the novel Notes, the beginning of the Man's diatribe, is 'I am an ill man, I am a spiteful man.'
… Or it isn't. Did I mention this is in translation? I had three different versions open on my desk to solve this first line. 'I am an unwell person' was obviously out. Clinical and polite. This was an introduction, and a nasty one, a man laying his soul open. Definite articles could go, and he was obviously a man because he was being played by one. One translation went from 'sick' to 'wicked', and although out of context they sounded like things a 90s kid would say about a cool new surfboard, they felt right – clipped and nasty in the mouth. But his villainy felt more important to foreground: this is a man whose 'sickness' is either a moral degeneracy or a psychosomatic ailment, so we should meet that after we meet his wickedness.
That, and this is someone obsessed with himself, with the act of self-definition. He's constantly telling people who he is and what he's about, and yet struggles to pin himself down. And in our version, he's staring at a younger self who also wants to define himself, but has no idea yet who he's going to be.
So we begin with both men, older and younger, singing 'I am'. An introduction to the audience, an attempt to justify and explain themselves for the wonderful and terrible things they're about to do
I am                 (I am)
I am                 (I am)
I am wicked
I am sick.
That's the first ten words. Then it gets properly bonkers. Enjoy. (Lightning crackles, evil laugh, fade out.)
We acknowledge the Gadigal people of the Eora Nation as the traditional custodians of the land on which we work and perform. We honour their elders both past and present, and extend that respect to all Aboriginal and Torres Strait Islander peoples.