2013 is the bicentenary of Richard Wagner's birth, and opera companies around the world are performing his towering music dramas to mark the occasion. Sydney Chamber Opera has developed a more searching tribute: a living composer's response to his controversial final work Parsifal.
Jack Symonds' Climbing Toward Midnight is based on Act II of the Wagner, and it explores the aborted romance between the two ill-matched main characters, Parsifal and Kundry. It uses Wagner's text, however, Symonds' intimate chamber score is a totally new composition.
Climbing Toward Midnight is a modern parable of obsession and desperation and does not require prior knowledge of Parsifal. Staged by colourful Israeli-Australian director Netta Yashchin, it is a 21st-century reflection on Wagner's complex legacy.
Conductor-Piano
Jack Symonds
Director
Netta Yashchin
Associate Director
Pierce Wilcox
Set & Costume Design
Jessica O'Neill
Lighting Design
Ross Graham
With
Mitchell Riley
Lucinda-Mirikata Deacon
Maya Gavish
Ensemble
James Wannan
Mee Na Lojewski
Peter Smith
Climbing Toward Midnight is co-commissioned by the Australia Council for the Arts and the Wagner Society in NSW.
Principal Sponsor: The Wagner Society in NSW
NIDA is a supporting partner of Sydney Chamber Opera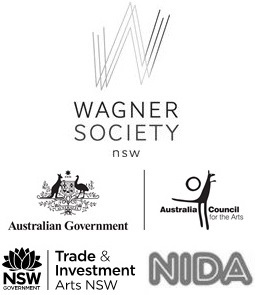 NIDA Parade Theatres
215 Anzac Parade, Kensington
We acknowledge the Gadigal people of the Eora Nation as the traditional custodians of the land on which we work and perform. We honour their elders both past and present, and extend that respect to all Aboriginal and Torres Strait Islander peoples.